May 1991 saw Stourport Photo Centre open on the High Street.
During these early days it was not unheard of for us to process & print about 150 films on a Monday. How times have changed since digital has come to the fore. Unfortunately we no longer process films due to the very low volumes around.
Since 2000 when digital started to gain a foothold into the photographic market, we have updated our equipment whenever necessary to provide our customers with the end product that they deserve. Currently we use Epson SL D-3000, Canon  PRO 4000 and Canon PRO 1000 printers.
Digital technology has been good for photography. Now people can capture as many images as they wish with no cost until anything is printed. These people are shooting several hundred images per year whereas in the days of film the average was about 2.7 films (36 exposure) per year.
We have always tried to give our customers the best possible service and shopping experience when they visit us, and in 2009 we won an award from Skill Smart Retail in a 'Mystery Shopper' campaign. This was a massive endorsement for our good customer service skills.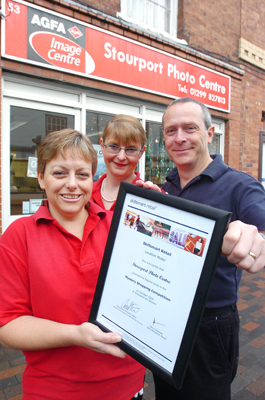 Our staff are a very friendly bunch with a great wealth of knowledge about photographic printing. Should you have any questions about how to obtain the best from your prints, give us a shout.

Richard Rodgers
Director
Richard has been involved with commercial photo processing since 1985, and has had a passion for photography since he was 12. After leaving university he began taking wedding photographs for a company in Bewdley. His love for creating high quality prints finally steered him away from image capture to concentrate solely on printing. He has given talks at many local camera clubs and advises photographers on Colour Management issues. Away from work Richard is a very keen golfer so if any of you fancy loosing some money, give him a call.
Stourport Photo Centre

Nicola Rodgers
Director
Nicola is Richard's wife and is in charge of the company's accounts department. After leaving school, Nicola attended college and gained qualifications in Business Studies and Marketing. If you are an account customer, Nicola is your contact should you have any admin queries. Her email address is nicola.spc@btconnect.com.
Stourport Photo Centre

Sheila Jones
Printer
Sheila started work in the photo processing industry back in 1985, when she worked with Richard in Bewdley. Following on from this , she worked for Colourcare, which at the time was one of the country's largest commercial processors, after which her first taste of a Pro Lab was a move to working for Colab in Birmingham and Wolverhampton. Sheila's organisational abilities are second to none, and this has really helped with the demands that we have here from different customers and their wide ranging photographic needs.
Stourport Photo Centre

Simon West
Printer
Simon's employment background is in engineering, and after being made redundant from a large local company, joined us on a temporary basis to cover the busy summer period in 2003, and has been here ever since. He has developed (no pun intended) his understanding of all aspects of photographic printing and associated computer work, and is now a vital part of our small team. A keen photographer and videographer, he is able to offer advise on various aspects of each.
Stourport Photo Centre